It is not uncommon for children to experience separation anxiety from a parent or loved one at any different stages in life.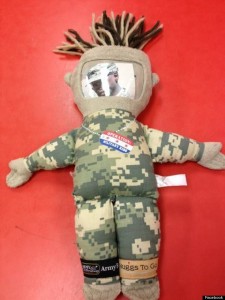 If your child is:
Going to school for the first time
Watching a parent get deployed
Moving between homes due to divorce and separation
Anxiety after losing a loved one
And many other reasons!
When separation anxiety in children happens over six years of age and persists for some time with symptoms such as:
Worry something might happen to child when the caregiver is out of sight.
Not wanting to go to school
Fear of being alone
Accidents and wetting the bed
And more, a child may have a separation anxiety disorder. Please consider consulting your physician. No matter what, separating with your loved ones can make us feel sad or anxious at any age! This is why Huggee Miss You personalized and recordable dolls are the perfect gifts for helping kids with anxiety.
 Huggee Miss You Dolls: The Best Doll For Helping Kids With Anxiety
Huggee Miss You Dolls make for excellent therapeutic dolls and play therapy activities because these personalized recordable dolls:
Make a child feel close to a parent or loved one he or she is missing
Are excellent and easy to use and create "Daddy Dolls/Mommy Dolls"
Gives your child a physical connection to you with a soft squeezable doll
Comes with the ability to personalize a message by easily recording over the phone or computer! (AMAZING feature: Your message cannot be erased if you do not want it to. You can re-record over and over as many times as you like) 
Huggee Miss You Dolls: Play Therapy Activities to Ease Separation Anxiety
Every good play therapist has the right tools in his or her arsenal kit to help children cope with a myriad of issues, from divorce trauma to coping with the loss of a parent.
Huggee Miss You Dolls are a great way to reenact struggles, hurt feelings and emotions around a loved one or parent in play therapy. A play therapist can easily recommend the best way to personalize a Huggee Miss You Doll for helping kids with anxiety, whether it's suggesting mom or dad leave a reassuring message, or simply a photo with the Huggee Miss You Doll for a child to squeeze when being away from a loved one is too much to bear.
No matter what the situation, whether your child is struggling with a coparenting schedule, seeing a parent go off to serve the military or fearful of a new school or grieving a loved one, Huggee Miss You therapeutic dolls are wonderful ways to help ease a child who is suffering with anxiety.
Bring a hug to life today! Huggee Miss You Dolls make staying connected to our loved ones easy. We ship our products within 24 hours of receipt*, for no extra charge. We also ship to APO, AE, FPO Boxes (we ship to all, military and standard international orders), so sending gifts overseas is never a problem and always our pleasure.
Call us today toll free at 1-888-484-8646!