Mommy and Daddy Dolls with History and Heart
1995 was not going to be a good year for my family. That is what we thought when I woke up from the anesthesia and was told, "You have Breast Cancer".
I would like to say I was stoic, honorable and brave at that moment. But truth be told, I screamed and cried, "NO, IT CAN'T BE. I am only 35 years old. I have two babies who need me. Dear G-d what am I going to do?" Well what I did with the unbelievable help and support of my immediate family and friends was to go home and research my disease, met with many doctors and did everything needed to live to see my children grow. After a very good year, we are celebrating not only my fourteenth year of being Cancer Free, but our Ten Year Anniversary of HUGGEE MISS YOU™, the original customized dolls.
HUGGEE MISS YOU™ was created out of need. My sons, Jesse who was 4 years old and Adam who was 7 years old at the time of diagnosis cried every time we could not be together. Even when I took a nap! I promised them when I got better I would come up with an idea to help us not miss each other. My youngest son was still having separation issues even 3 years later and never wanted to sleep alone. I always gave pictures of me and my husband to my children and it calmed them down but unpractical to hug and carry around. So when my son had an invention contest at school we came up with his, "SLEEPING BUDDY" as he called it then.
I made it by hand and one day will have the guts to show all of you. Not pretty at all but boy did it work. We named it HUGGEE MISS YOU™ because my youngest son would always say to me, "HUGGEE HUGGEE I MISSED YOU."
My husband knew I always wanted to be an entrepreneur, and saw how successful my ideas could really be, that we knew this was the time, the product, to risk it all on.
To be able to help others and maybe make a living, well that was my dream. I LOVE giving.
We also decided unanimously in the family that part of the profits would go towards Breast Cancer Research & Programs. We started in spring/summer of 1999 showing HUGGEE MISS YOU™ to stores and shipped in October (Breast Cancer Awareness Month) of 1999 our very first 21″ Friends custom design print.
We are extremely proud to state whether the year was profitable or not we did donate a lot of money to many organizations for Breast Cancer Research & Programs.
We also donated product to other charities or people in need from horrible events such as 9/11.
Ten years later we are extremely proud to have for sale not one but TWO HUGGEE MISS YOU™'S that ONE DOLLAR from the sale of EACH and every one of those two Mommy and Daddy dolls will go towards Breast Cancer Research & Programs.
The Creation of Military Dolls
We will also continue to support our troops in many different ways, whether discounting their particular HUGGEE MISS YOU™ military dolls or helping OPERATION GIVE A HUG and other wonderful charities for the troops. We salute ALL our military families and pray every day for ALL our soldiers that are deployed and making America safe. THANK YOU from the bottom of our hearts to the families as it is so hard for those holding down the home front too!
Wonderful Reasons for a Recordable Doll
HUGGEE MISS YOU™ is also FUN!! I love giving them not only for all the obvious reasons but just recording a funny message and sending it off, as everyone needs a good hug and a laugh.
How great would it be to propose with your own HUGGEE MISS YOU™ customized doll?
HUGGEE MISS YOU™ was "GREEN" BEFORE it was politically correct! We always only use the best quality fabrics we can and offer at the most affordable pricing. We are so proud to announce we have a perfect customer service record and will do what is necessary to maintain it! Only legal of course!!
When we design anything we make sure they are user friendly. Did you know you CAN machine wash on delicate and dryer safe on delicate your non-recordable HUGGEE MISS YOU™'S? ALL are spot cleanable, stain resistant and hypo-allergenic. SAFE FOR ALL AGES. We embroider all so there are no small parts.
With our new recordable doll we give you the batteries! We even made it so you can CHANGE them when needed! We also offer them for A LOT less than they should be. We know it is tough out there and this is our way of helping among others.
Our Mission/Goal was and always will be to give our clients not only an amazing product that actually does what it claims, will not be put in the toy box but actually used, but to give comfort and joy in a fun/safe/user friendly high quality way AND paying it forward!
Give the Personalized Doll that Shows How Much You Care!
This shout out is to our wonderful HUGGEE MISS YOU™ family! We cannot put into words how all of your emails and phone calls telling us how HUGGEE MISS YOU™ has comforted you and brought you joy has lifted our spirits on so many days when we needed it the most! We are absolutely thrilled that the joy and comfort HUGGEE MISS YOU™ brings out of all of you is now bringing it all back to us; how sweet it is. God bless all of you, and God bless all of us! We love you. Your HUGGEE MISS YOU™ family
HUGGEE MISS YOU™ is loved so much by all of you, that you take "him" to – parties, temple, church, school, work, etc. to show all of your friends how they can get a HUGG too
We promise to give the same unbelievable customer service, quality, and compassion that we have committed to you these past ten years.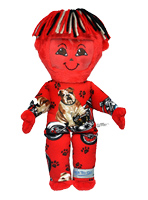 Your advice, comments, and pictures are not only welcomed but listened to and enjoyed. Keep them coming! Remember to keep checking our site as new fun products will show up along with specials anytime!
Thank you again to all of our companies, charities, stores, distributors, and colleagues for all of your support these past ten years.
We LOVE all of you and we send a HUGG TO GO!
Yours Always,
Audrey L. Storch, her loving family-Michael-husband who she drives crazy! Adam the oldest son who cannot wait to graduate college and we are so proud of and Jesse-who has the heart that will take him far. None of this would have happened without them. My friends-you know who you are-same for you-I love you. HUGGS TO GO™ FOR EVERYONE!