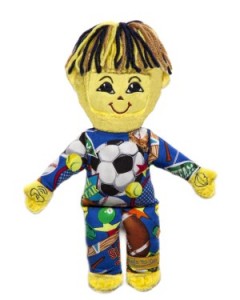 When summer comes around, many families and children have one thing on the mind: sleepaway camp! But as much fun as the experience can be, many children suffer from summer camp anxiety. What better way to deal with worry, sleep problems or home sickness than to have a "best friend" with you to make it a little easier?
At Huggs To Go, we know that separation anxiety in children can be debilitating at any age. That's why we designed our plush, huggable dolls to be there with them when they're away from home. They also happen to be super-cool reminder of family and friends to keep with you even if you're all about the summer camp fun!
A Comforting Hugg for Anxiety and Sleep Problems in Children
Sleepaway camp is a lot of fun, but it can be difficult for children to adjust at first. It's very common to see symptoms of anxiety like sleep problems in children when they leave home for a long time. The HUGGEE MISS YOU photo doll is perfect for children and teens who might feel a little homesick this summer.
Having a friendly reminder of a loved one can alleviate the separation anxiety in children. That's why our plush dolls are designed with a 3" x 2″ slot for a picture to replace the doll's face. Plus, we also offer a recordable option on some dolls that feature a10-second message with your voice!
HUGGEE MISS YOU dolls are perfect for kids, teens and young adults who attend:
Day camp for part of or all of the summer
Sleepaway camp
Colleges out-of-state
ROTC training programs
Boot camp
And more!
Separation Anxiety in Children is Common. But Adults Feel It, Too!
Separation anxiety in children may be common, but adults experience it as well. After all, sometimes Mom and Dad need a Hugg! Our customizable dolls give you something to squeeze when you can't be with child. They're great gifts for grandparents, aunts, uncles, cousins, siblings and friends who want a reminder of their young ones while away at camp.
We ship our plush photo dolls within 48 hours of receipt*. We also ship to APO, AE and FPO Boxes. Contact Us today to order your custom photo doll today