Our loyal Fan club has sent photos to our attention over time. We would like to share a few with you. TGFHMY = Thank G-d For HUGGEE MISS YOU™
CLICK HERE FOR OUR PHOTO GALLERY OF OUR LOYAL HMY FANS
Thank you so much! I am very impressed not only with the dolls but with the customer service. You have an amazing company and j will be sure to spread the word! Merry Christmas and Happy Holidays!
---
Thank you so much for the awesome customer service! I have never received such a fast response. Thank you so much for being so thorough and for making the doll look just right. A little girl will be so happy to receive this. I will definitely spread the word about you and your company.
Again, thank you so much.
Happy Holidays!
~Naky
---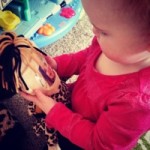 Laila loves her sister doll. Thank you.
---
My mom and I were thinking of ways to help my son get through the time I'll be away and she found our website on google. I can't express how happy I am that I found your site and that you are extremely quick with turnaround times. Thank you so much!
-Josh
---
Hi Audrey, I actually saw a post on Facebook about a little girl who lost her daddy doll at the airport and they showed a picture of it. My son in law is deploying next month and leaving my daughter and their two year old and newborn. I think this is a great idea. Thank you for making the pricing so reasonable 🙂
Have a wonderful day!
Sharon
---
I received this doll as a gift for my daughter. After about 2 months, the doll stopped working. I was so impressed with your customer service. I received a replacement so quickly. I cannot thank you enough. I was recently diagnosed with asthma and had flare up and was taken by ambulance and my daughter was scared I would die. Everything was up in the air for awhile while the doctors figured out what was going on. I think that is why she has severe separation anxiety. She has greatly improved with her doll. She no longer cries when I leave.
That kind of thing a mother never knows how her child will react to it. In your case, it was a huge heart and putting her children first that inspired such an amazing doll. I have nothing but the highest regard for you as it is hard, especially now a days to find a mother who puts her child's needs ahead of her own during a serious illness. You are an inspiration and I would very much like to call you a friend. Thank you so much for your heart and for the love you put into caring for all the children around the world that your dolls have brought comfort to.
---
Thank you so much for your prompt response. My son asked me to locate one for his soon to be two year old daughter who is missing him while he is working/attending school out of state.
We are familiar with these dolls because of the wonderful experience we have seen our nearly four year old granddaughter have with the one that she was given at birth, while her Daddy was deployed. That "Daddy Doll" is wherever she is sleeping and brought her much comfort through her Dad's next deployment also. Absolutely brilliant idea. Thank you so much for bringing this idea to fruition and making them available at a very fair price. You are doing something really great here – bless you!
Ok, off to place that order for him now, as he just left for the 500 mile drive to visit her for the weekend.
Thanks you,
Shelly Guido
---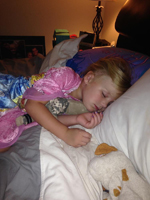 My daughter LOVE LOVE LOVES her doll, I was looking for a new one and found your website. My husband and I are both military and leave at various times and will probably order a new one for her dads pic. Thank you so much for making such an awesome doll.
-Holly Corbin
---
I absolutely love your dolls, they are our "daddy dolls".  My husband first deployed when our oldest was 2 months old 4 years ago and we took daddy everywhere.  Since then when he's had training for a week or two she snuggles with daddy.  He's on the verge of deploying again and I just ordered 3 more for our 2 other children and 4th on the way.  They are very excited to know they will be able to hug and hear daddy when he's gone.  I brag about your dolls to everyone I know going through any type of separation and recommend that they look into purchasing one. You've saved us from many meltdowns!  Thank you for such an amazing concept!
-Sarah Sandlin
---
Thank you, Audrey, for returning my call and allowing us to still receive the special price. Your customer service is above par. I wish other companies would follow your lead. Thank you, again, and I hope you have a great day.
-Rosa
---
You've definitely succeeded in making 3 little ones happy today. We received the dolls this morning. and my oldest son (who i didn't really think would care too much.) screamed "Daddy!" when i opened the envelope. No picture yet and he still knew what it was. Our daughter was asleep so I snuck it into bed with her. She was a very happy little girl when she woke up. I will be taking pictures soon hopefully and I'll post them on your facebook wall and send them to your email. I can't thank you enough. You've made my kids seem more like themselves. I know things are going to be so much easier for them now.
-Violet
---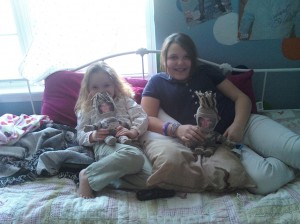 "Dear Audrey,
I cannot thank you enough for your help last week in getting my 2 girls their dolls. Their brother was deployed to Iraq on February 7th and they were truly having a difficult time with it. My 5-year-old daughter takes him to preschool, sleeps, kisses, and absolutely adores it. It has brought major comfort to my 12-year-old who actually understands why he is in Iraq and the dangers. I can honestly tell you that it also helps me to look at it and see my son and to actually have something to hug. Your product is an absolute gift to anyone who has a family member that is deployed. Once again, thank you from the bottom of my heart for this touching product."
-Michele Pappas
---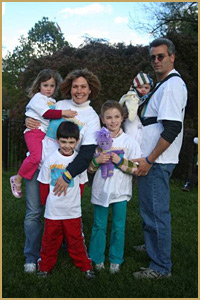 "Thanks for the dolls. The kids take them everywhere and sleep with them, too. They love that you can record messages on them."
-Greg, Jeanne, Mackenzie, Matthew, Miranda & Mitchell
---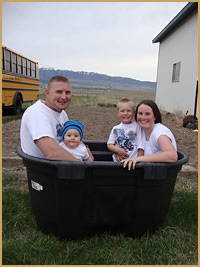 "We also got some Army dolls for the Boys that had a picture of Jeff in them so that the boys would always have daddy with them even though he not home, We call them our Daddy dolls. Yes I even got one for me!"
–The Hathcock family
---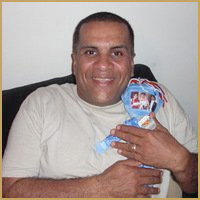 "My husband put a picture of our wedding with me and the kids in the doll, all wrapped up to go overseas with him. He is leaving in November for a year. Thank you again, it meant a whole lot."
-Lissette Santana
---
"My daughters name is Ava and she is 5 yrs old. She takes daddy doll to school everyday so he can take a nap with her! Her daddy is on a year tour in Afghanistan and will be home sometime in May!
Thank you so much for what you are doing for kids of deployed soldiers. When her dad saw this doll she carries around it brought a tear to his eye.
Thanks,
Kim Johnson
---
Hi Audrey-
We received our Buddy guy.. thanks.. Josh was so excited to get him.. he couldnt wait for the mail to come on Sat, when we got back from our trip.. Thanks again.
-Lindi
---
I heard about you guys from my cousin. She had a picture where her baby had a hugs to go and I wanted one…I have a 1 yr old and a new born and right now their dad is away due to his military duties. So what best way for the girls to have alittle bit of their dad with a hugs to go doll…I love this idea so much…I am glad you guys thought about this…thank you.
-Amanda Diva
---
Jeremiah decided to eat his lunch around 2:30 instead of lunch time… and I look over, and hes trying to get his doll to sit up on the stool! I explained he would have to lay down not sit on the stool. He smiled and layed his doll down and said "come on daddy, it's time to eat!" What a sweet boy!
– Jeremiah's Mom
---
My son, and Chandani's dad, is in Iraq and before he left the Family Advocacy Group at Ft Bliss, gave his daughters 2 "Daddy dolls" that they adore. I was just in El paso with them and the 5 yr old, Chandani, asked me to "make me a Gramma doll so I can sleep with you every night." So I ordered it before I left, and she picked out the one she wanted me to be. I found out by the tag on the Daddy doll. Great idea. Easy to make, easy to buy and the kids love them. I suspect there will be a request for a Grampa doll after they are here with us in NC for a couple of weeks this Summer.
-Diane
---
My kids have had both the Daddy doll and the HUGGEE MISS YOU doll and they prefer the HUGGEE MISS YOU dolls everytime.
– Brittany B
---
Whew… It's always hard when deployment is involved. My son was 2 when I found out I was going to Afghanistan. We started talking to him RIGHT AWAY. There is a program for military kids called Operation Military Kids. My son stayed with my mom the year & a half that I was gone, so she took him to all these activities they threw for the children of deployed soldiers. He came home with an Army stuffed man with a picture insert for the face… My mom put a picture of me in it & he wouldn't let it go the entire time I was gone!!! Pictures always help. I was able to call & talk via Skype while I was away. He enjoyed talking about me with his grandma & it seemed to help him get over the fact that I was away. We always reminded him that I would be home as soon as I could. I hope this helps & good luck!!!! Give DH a hug from 1 soldier to another…
-Received from Operation Military for kids
---
I just received the 2 dolls for my daughters today…they are adorable. Thank you for your support for my family. My girls love them!
-Tabitha Farr
---
Thank you so much! my 3 year old daughter woke up with a nasty virus this morning, and i just knew that her doll would catch the worst of it sooner or later and i know will have to be washed to get rid of the germs!!! my husband, Matt, her step father, is in afghanistan, and she calls her doll, her "matt" doll and carries it with her everywhere she goes, and sleeps with it every night! it has helped her so much the past 6 months of deployment, and i hope it continues to help her through the next 6 months! these dolls are the best!!! thanks so much!! hope you have a great week!!
-Kristin Young
---
Thanks sooo much! Savannah loved it! She kept laughing and saying "dada"!
-Jennifer McGruder
---
The Huggees are perfect! Just what I was hoping for, can't decide which one I like better. Aero chose the blue and white one right away, and Haven loves the sunny yellow one- she especially loves to play with the yarn hair. It was def. one of the best purchases I could have made for them right now- can't tell you how many times I heard Aero say, "C'mon Dada!" today. She calls it her Dada Dolly. Thank you so much for helping me make this important gift to them! You rock!
-Cheryl Brunnell
---
My husband is active duty Air Force and is currently deployed. I happened to see one of your dolls in a magazine. I really wish I knew about your product before he left. We have a son who was 3 months old when he deployed. I am definitely going to purchase one of the military dolls for my son. Thank you for your time.
-Marilou Bui
---
Hello, my name is Amber Brim and I am a wife of one of the men serving on USCGC Dallas and the mother of one of the Dallas children y'all sponsored with the Operation Hug a bear! I would just like to gratefully extend the great appreciation that myself and my daughter have for such a wonderful thing y'all have done! My daughter is only 6 months but she knows who her daddy is although hes gone alot! Ive inserted one of his pictures and she tries to kiss her daddy and I can now ask "wheres daddy?" and she looks at her bear! Again thank y'all so much! It will be forever grateful in our hearts! and for many deployments to come!
-Mrs. Amber & Madilyn Brim
---
I am a friend of Brittany Blankenship and our husbands are on the same Coast Guard Cutter. We received the "Daddy Dolls" on the most recent deployment and it helped our girls so much. They would take them everywhere and made sure they had them at night. It got them through this deployment alot easier than anything else. We appreciate them being given to us so much. Brittany saw this picture and thought you would enjoy It. Again thank you so much Im sure these dolls help our kids alot more than they are given credit for.
-Angela Hermann
---
My niece has to take hers everywhere! So, her name is Lina she is 2. And we got one for her because her uncle is serving 3 years in Korea. i'll send pictures of my other 2 as soon as possible! (i did recieve the package! that was fast. Thanks again for your help and speedy service!
-Ashlie
---
Audrey,
You have a great company with great ideas and provide alot of comfort to families and help wives as much as you do children! thank you so much i'll send you my contact info for korea as soon as i get it! I'll keep my eye on the post office also! Thanks again for EVERYTHING! your amazing!
-Ashlie
---
Once, we got our dolls, neither of my kids put them down. My son does everything with "Daddy" now. At nap time the day we got them, he put "daddy" in bed with him, tucked him in, and said "I'm gonna hold Daddy's hand while I sleep". Then at lunch time, my son went into his room and got Daddy a chair to sit and eat lunch with him. My daughter sleeps with hers at night, and I show her the doll often, repeating "da da", hoping she understands. She simply smiles and shoves the doll into her mouth. I wish I would have had these dolls earlier in our deployment. My husband is in the USCG and currently stationed on USCGC DALLAS WHEC-716. These are such a blessing to our family during this time. I don't plan on ever going another deployment without them.
-Brittany Blankenship
---
so awesome to help out operation military kids….the daddy dolls they gave out to the kids at the begining of the deployment have been wonderful… OMK does a lot for military kids… take it from this Army wife.
-Darrell Dawn VanGorkum
---
Audrey,
Thanks for the well wishes. I am better. I heard about your site from doing a search on daddy dolls. Then on babycenter your dolls got such great reviews. My baby is 7mos and just starting to say dada. With dad away I want her to be able to see daddy. I can't wait to show her off with her daddy huggee and grandma one too.
Thanks so much for your help!
-Leronica Scallon
---
Thanks Audrey
My daughter had a huggee miss you doll while my husband was deployed and even though he has been home for over a year it is still so important to her. Thank you so much for including the curriculum our plan is to use the dolls with children who are experiencing loss or separation from their caregivers for a variety of reasons outside of military deployment. We continue to work with the miltary installations to get our kids dolls for military deployment but we're finding we had community kids needing them as well. During this school year we are experiencing behavior issues in our classrooms and seeing that those are tied to separation and loss. The following family issues have greatly impacted our kids this year; homelessness, incarceration, substance abuse treatment and death of a parent. Our efforts with these kids are to help them realize when they are feeling sad or anxious and providing them a comfortable place to relax with their dolls and possibly even time to process with a teacher if the child is wanting to. Thanks for making such a great product!
-Deana Tuttle MSW
---
Hello there
Yesterday I received our clever"Huggee Miss You" Doll and want to send a special thank you.
Our son is deploying to Afghanistan next month and we will be giving the cuddly doll to our little granddaughter.
It is such a heart-warming concept and is sure to offer some comfort in what can be a challenging time.
Thank you
-Rachel Wright
---
"Hi Audrey, I think the dolls are the greatest, and everytime I look at my "hubby" doll, I smile. It has really helped me to get through this deployment. I'm a grown woman (46 years old), but I still cuddle up to my doll at night when I go to sleep. The other wives here enjoy their HUGGEE MISS YOU dolls as much as I do as also my single friends love them. I'm off to check out OPERATION GIVE A HUG website. Keep up the good work!"
-Susan Stevenson
Audrey, Just wanted to say thanks so much for the dolls and everything. I've been giving them out like hot cakes. We have had so many new people and old friends deploying that now have kids and these dolls are perfect for them. Just wanted you to know they are going to good homes! Happy New Year & Thanks
-Melanie
---
You recently sent some HUGGEE dolls to the 4th Infantry Division and they were a huge hit! I want to thank you for everything you are doing to support our soldiers and their families.
-Marion Gilbert
---
Audrey, I just wanted to let you know that I will keep spreading the word about your website and the super HUGGEE MISS YOU Dolls. My daughter loves her's so much. Thank you again and God Bless,
-Kathy Gaglio
---
"When I moved to Fort Campbell, KY, I went to a Goodwill Store and found the blue, red, and white one and bought it for my son. He does everything with him and sleeps with him. He broke his legs two times and I fixed it, but he told me that his daddy wasn't the same. So I went to the AAFFES to see if they had it, but I had no luck. Then, I checked the white tag on the plush toy and found the name. I Googled it and finally I found it! He is so happy now that he is going to have one that is dressed like his daddy. Thank You so much for what you do. You make the deployment so easy for him and for me."
– D. Soto
---
"Thank you for a wonderful doll. "Soldier Daddy" is well taken care of by Imij. She feeds him, shares her milk, and gives him plenty of hugs and kisses. Many thanks."
-Gretchen Armstead
---
"Dear Audrey If you would be willing to ship this doll to my daughter in Ft. Lewis, that would be fantastic. I want to commend your outreach,, especially now that you have offered a recording doll. My five year old Grandson is blind, and can not see pictures of his daddy. My daughter has been playing the answering machine with her husband's voice recording on it, on days in which my grandson has a particularly rough day. Having tactile and audio alternatives to special needs children is wonderful, This doll will help him not miss his dad so much."
– Karen P.
---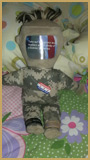 "I've been eyeing these Daddy Dolls since we found out we were pregnant, but have never got one cause Calee is going to be just a baby. I thought if she was going to be older during the deployment, I would get one, cause she would use it more.
Well, tonight Mike went to the FRG Meeting after work, (I couldn't go cause he didn't get off work in time to come pick me up) but he said they had a few of these there for free, and so he snatched me one. It made me so happy! Even though I wasn't 100% sure if I wanted one for Calee, Im so glad we got one now! It will be another good reminder for Calee of her Daddy. I just have to find the perfect picture to put in it :)"
–Jen Martinez