RICHLAND COUNTY, SC (WIS) –
Posted: Jul 22, 2015 9:47 AM EST
Updated: Jul 22, 2015 10:38 AM EST
By Jason Old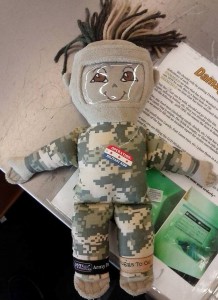 There's very likely a little boy or girl out there who is very sad.
His or her mommy or daddy is probably away on deployment and the doll given to help fill the void while that parent is gone was recently lost at a Columbia area shopping center.
An employee of the store shared a photo of the doll with WIS on Facebook hoping to accelerate the process to find its rightful owner.
"I work at the Old Navy in the Village of Sandhill," wrote Kass Foxworth on Wednesday morning. "Last week I found this daddy doll. I believe the date was the 16th. I'm not sure how to locate the individual that lost this. Maybe you guys could post something to pass the word around. I'm sure who ever lost it would want to back."
The dolls are named "Huggee Miss You" dolls. According to the USO, breast cancer survivor Audrey Storch created them in the mid-90s to help her kids with separation anxiety while she received treatment. A plastic window over the face allows the child to insert a picture of their absent loved one.
Susan Agustin, a military mom, decided she wanted to put these dolls in the hands of military children. So she started her own home-based non-profit organization to provide the 12″ camouflage dolls to 8,000 kids at Fort Lewis, Washington. Since 2004, "Operation Give a Hug" has supplied dolls to hundreds of thousands of military kids worldwide.
The dolls are also used by school counselors and pediatric psychologists to help children cope with deployment.
So, now you know the story behind the doll. If you don't mind, please share this story to spread the word!
"I know that if I was a child of a military parent and I lost this I would want it back," Kass wrote. "Especially if the parent or parents are overseas."
If you are the parent of the owner of the doll, Kass asks that you visit the store and ask to speak with a manager. They will gladly return it to you.