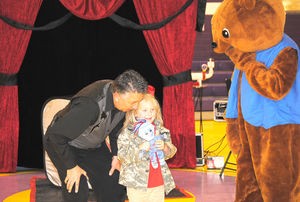 Few Children get to experience real magic, but that's exactly what happened on Tuesday, April 28, to a shy, blonde five-year-old named Addison Woodburn. That day she found her mother inside a magic box and realized her father had been the helper bear all along.
Serving in the Louisiana Army National Guard with the 528th Battalion out of Monroe, West Monroe residents Sgt. Julia Woodburn and Sgt. 1st Class Brian Woodburn, had both endured time away from each other and their daughter Addison. As nine- and 25-year military veterans, respectively, who joined straight out of high school, duty separating them from their family was the norm. Julia and Brian have been called in "quite often" at separate times for stateside disasters like hurricanes, floods, and oil spills. And Julia has spent "a year to two years away" from her daughter.
The stress and rewards of the military were "a way of life" for the couple. But last June, 11 months ago, the Woodburns faced a new challenge and obvious blow to their family when Julia and Brian were both called in for what would be an almost year long stretch in the Middle East.
Overseas deployments happen only so often for National Guard members. Brian had made the trip before, spending time in Afghanistan, but this would be Julia's first. She was sent to Kuwait, and Brian was stationed in Afghanistan. Each spent their time working on various engineering and construction projects, missing each other and missing their daughter.
Addison stayed behind in the care of Julia's sisters, Jill Robinson and Cortney Haring, in Gilbert to start school and live for a time away from both her parents. Jill was the primary caregiver during this stint, and Cortney was the helpful aunt down the street who organized sleepovers and pitched in wherever she could.
All of kindergarten, the first softball game, and holidays, dance recitals, "packing lunches," and a fifth birthday party are the milestones Julia and Brian missed while serving their country.
"The first day of school was the first bad day," Cortney said. The aunts tried to hide their tears as Addison walked into a brand new place full of brand new people. And all the while, Julia was trying to video chat with her daughter from what seemed an eternity away with a frustrating and poor connection.
Skype did ease the burden that thousands of miles of ocean and desert put on the family, but nothing could replace the hugs, kisses and time together that close proximity affords.
According to Cortney, Julia "bent over backwards" to stay up late so she could call Addison each morning before school. The internet is spotty in Kuwait, though. Limited connectivity, coupled with the various missions Julia had to go on, sometimes meant there would be barely any communication between mother and child for weeks.
A tough veteran in her own way, Addison was "used to [them] moving around," familiar with one of her parents leaving for a time.
"Addison is the toughest five-year-old I know. She rolled with every punch and did it like a champ," Cortney said.
This latest episode, though, was life changing in a brand new shape.
"Addison was an hour away from everything she's ever known," Cortney said. She missed her "dog, room, and toys." Julia was "sure there were a lot of late nights" of Addison crying to see and touch her mom and dad. She had never had to bear such a weight for so long.
"It was harder than what I thought it would be," Jill said. Adjusting to the new order of things was tough on everyone involved. Jill's twins gave Addison a ready set of playmates and companions, but it was still months before the new family unit settled into a rhythm.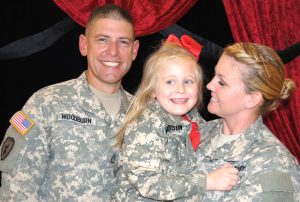 The Mommy and Daddy Dolls helped. These "magic" and tiny versions of Addison's parents could transpose a hug or kiss all the way across the ocean where Julia and Brian could feel the moves of affection like their daughter was in their arms.
All the space between Addison and her parents, all the things they missed about each other shrank to nothing on Tuesday, though.
A magic show was organized at Gilbert Junior High for the little girl whose parents, she believed, were still over two weeks away. Nathan Roberts, a local who shares his magic with young ones at school libraries and as part of his ministry, was in charge of making the impossible happen.
Addison's friends and family were gathered. A big, friendly bear that Addison was too shy to hug roamed around helping where needed. A large, empty, mystical box lay before her.
Nathan showed Addison there was nothing inside. Then the helper bear dropped in the Mommy Doll, and they waited. Nathan reached into the box and rummaged around before he pulled Julia out of thin air.
"Mommy Doll made her," Addison exclaimed as she "screamed and ran" to her mother.
There were tears and hugs. The helper bear took off his mask, and there was Addison's dad, too. A family came back together in the blink of an eye, the kind of magic we can all believe in and hope for.
"Everybody was squalling," Roberts said. He's practiced magic all over the world and ever since he was nine years old. But this was his greatest trick.
"It was beautiful," he said. "One of the most awesome things I've ever seen."
Now with Julia and Brian "home for a while," the adjustments start over.
The aunts and extended family have grown attached to the young girl.
"I'm very, very grateful for the time I did get to spend with Addison," Jill said. But she knows it will be "bittersweet" with Addison out of the house.
"I thank God everyday [Julia's] home, but it's going to be tough missing Addison," Cortney said. "I've threatened to come steal her," she joked. It may be a while before Addison goes anywhere, though.
"She hasn't left our side since," Julia said.
Now, everyone will work on getting their lives back to a normal state. On the immediate agenda is a weeklong family cruise. Everybody is going: the back together Woodburns, the aunts, and their kids.
It will take the place of the usual Mother's Day tradition of pancakes in bed and Disney Channel shows.
After their well-deserved vacation, things are up in the air. Duty may take Julia and Brian away from home again, but all parties are praying for short timelines and only one parent gone. Another overseas deployment for either is likely a few years away.
All the Woodburns know is that since they're back together, they'll wait it out in Gilbert while Addison finishes the school year. Julia and Brian will go back to work in Monroe in June. Julia will be back in school working toward her degree in Cyber Security and Forensic Science. Things will level out.
Addison's trip back home, though, her journey back to where she's from, to what she knows with the people she loves, hopefully will be the easiest and most natural transition of her five, almost six years.
To read original article, click here.