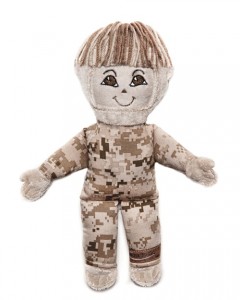 Whether your loved ones are about to be deployed or already away on military service and will be gone for the holidays, how do you gift them? Finding the perfect deployment gifts or military Christmas gifts aren't always easy. You miss these loved ones so much that words, gifts and cards or letters just never seems enough.
Hunting for that one special gift can feel slightly torturous knowing especially that as this person opens it, you won't even be there to see his or her face unless of course your active duty family or friend is able to FaceTime or Skype with you.
If you are about to send off a special person to serve his or her country or simply want a special gift to send to your active duty bestie, sibling or partner this holiday, consider Huggs-to-Go's personalized dolls!
Gifts for Soldiers: Our Personalized Dolls Make a Touching Statement
When you're searching for gifts for soldiers, you want to consider the power of our personalized and even recordable photo dolls!
First, these personalized dolls were designed to give someone we love a hug when we aren't able to be there to do it ourselves! As the line of dolls were created, military members and their families came right to mind.
With our large selection of  military themed gifts like our personalized military dolls like the Airforce doll, the Marine Desert Doll, Navy Dolls and more, we sought to help heal the hearts of both military members serving the country, as well as the family members at home, missing and loving them.
These dolls are perfect for the young and the old. For the child missing the "on-duty" Mom or the mom who is serving and missing her child.
Each doll is personalized to look like you—or the person you are missing!
Our dolls:
Can come with a photo insert so you can slide in a photo of your likeness or someone you love!
A recordable message with our recordable series dolls. You can record a message to someone you love in person or on the phone!
All are spot cleanable—some are machine washable.
Some are able to go on the delicate cycle in the dryer.
Come in many designs
Are hypoallergenic
Truly, our personalized dolls help remind someone of a loved one who is far off on duty or—helps the duty member get a "hug" from someone he or she may not see for a very long time,
This type of personalized gifts really makes an impact to military members who may not see their families over the holidays.  From the recordable message to the photo face, the doll is a reminder of the love you share with someone special that you just can't hug face to face.
So, as you say goodbye (for now) to a family member off to represent our country…or you prepare gift packages for the army, navy or marine member far away during the holidays, consider our personalized Huggs-to-Go dolls as deployment gifts. They truly are a hug away from home!