Judah and Noah Gossett love their "Daddy dolls" — customized toys featuring the smiling face of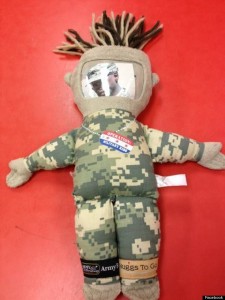 their military father.
The boys' dad is serving in Afghanistan on his fifth tour overseas, and the dolls provide comfort while their father is away.
So when the Judah Gossett lost his prized possession on Tuesday in a Manalapan, N.J., Target, his mother, Raynalin Gossett panicked.
"He sleeps with it, always wants it, carries it where we go," she told NBC 4.
Luckily, Michelle McHugh found the doll, brought it to customer service, posted a photo of it to Facebook and let a miracle happen.
"Can everyone please share this picture?" McHugh wrote on Tuesday. "I found this little military buddy doll left in a cart at Manalapan Target on Rte. 9. It has the picture of someone's dad and there must be a very upset little kid somewhere! I left it with Target customer service."
By that night, more than 3,000 people shared the photo. And on Wednesday afternoon, Raynalin Gossett saw the post.
"Thank you Michelle for finding my son's doll! We franticly went back to get him when we realized!" Gossett wrote. "My son is obsessed with it!!! Would love to take you to lunch sometime soon!"
The photo continued to be shared.
"The waterfall of care I have seen in the past 24 hours of strangers through social media is just overwhelming," Gossett wrote in a later comment. "What a great country."
Though Judah Gossett and his doll have been reunited, the photo has continued to spread across Facebook. By Friday night it had received more than 26,000 shares.
The boys' father may not be home yet, but having their dolls helps deal with the distance.