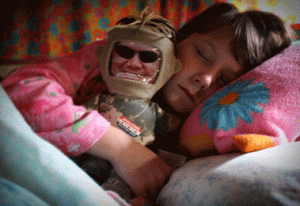 Have you ever just needed a hug? A real hug – thoroughly reciprocated and so powerful that you're lifted off the ground and swayed side to side?
Kids who miss their daddies are in need of a hug, and it's no coincidence that this simple gesture is the very first thing exchanged between returning service members and their families. A hug can calm the separation anxiety that fills the void of their parents' absence.
Fortunately, many military spouses have found a pacifier. They have come to be known as "Daddy Dolls," and military families around the world are singing their praises.
The dolls are actually named "Huggee Miss You" dolls, and they were originally created by breast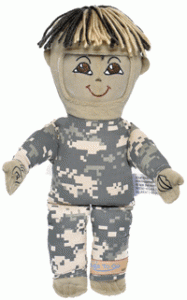 cancer survivor Audrey L. Storch to quell her young childrens' separation anxiety as she underwent treatment. A plastic window over the face of the doll allows the owner to insert the picture of their absent loved one.
It was Susan Agustin's idea  to put these dolls into the hands of military children. The Army wife and momThe Operation Give a Hug doll can be made in patriotic red, white and blue ribbons and stars, or in a digital camouflage pattern pictured here. Courtesy photo. first encountered a "Huggee Miss You Doll" when her 3-year-old daughter Maddie brought one home with pictures of her cousins in it. When her husband, Captain Gene Agustin, deployed to Qatar, she decided to replace the cousins' photo with one of her husband so that her daughter would have a way to hug her daddy every day.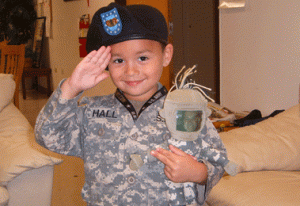 "The doll went everywhere with us," said Agustin. "He went to pre-school with us every day, and when it was time to read books at night, her daddy was right there in her arms. One day, when I picked her up at preschool, her teacher said to me, 'Mom, we have hundreds of kids who need these.'
"Something clicked," and in 2003, she began distributing the dolls through a home-based business.
"I absolutely stank at business," she admitted. "I kept giving the dolls away to every one of my friends who needed them, and my husband could only put up with it for so long – there was no way he could continue to support the needs of the entire community."
To Agustin, it has always been more important to get the dolls into the hands of children who needed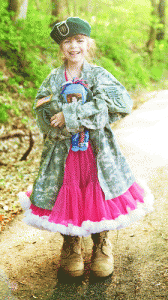 them than it was to turn a profit. She began speaking to the local community to raise money so that the dolls could be distributed under a non-profit organization.
Operation Give a Hug was born in 2004 with an initial goal of supplying dolls to the 8,000 children on Fort Lewis, Washington. She never expected the amount of support she received. To date, her efforts have resulted in free dolls for more than 260,000 children who have parents in the military.
Three of the dolls were delivered to the children of Army wife, Heather Whitus, who  was at home caring for her three sick daughters when there was a knock on her door.
The daughter of an Army Green Barret holds her "Daddy Doll" while wearing his uniform. Courtesy photo."There was a perky woman standing there with a package that she said came from my husband before he deployed. It was addressed 'to the Whitus girls.' She told me her name was Kara, and she was from the local USO, hand-delivering this important package," she said. "Little did I know, Kara was about to not only make my day, but my entire year."
The package contained storybooks and a DVD of her husband reading to her girls so they would have a way to see his face and hear his voice while he was gone.
"I was completely floored," she said, "I couldn't help but cry, and it meant so much to me that I had to find out what else was out there.
"My youngest didn't really get it, and had a hard time the first time her daddy was deployed," she added. "I asked if there was anything for the little ones, and Kara told me about these 'Daddy Dolls.'"
A couple weeks later, Whitus received an invitation to stop by the USO for a "special gift." When she arrived, her two youngest daughters, Courtney and 18-month-old Taylor were each handed a doll.
"My 4-year-old [Courtney] literally doesn't let the doll go," said Whitus. "She has carried it everywhere she goes since the day she got it. I wasn't sure if my 8-year-old would want one, but as soon as we got home, she asked, 'daddy didn't send me a doll?'"
Whitus explained to 8-year-old Madison that her daddy didn't send the dolls, but then she scampered to the phone to ask the USO where she could buy one more doll. She was put in touch with Agustin at Operation Give a Hug, who was more than happy to send a third doll free of charge.
"These things are amazing," Whitus told Agustin during a phone call. "To watch my four-year-old who went from crying and throwing a fit, to now, when I tell her if she's sad, she can just to go get her Daddy Doll.
"Last night she spent over an hour talking to her Daddy Doll before kissing it and going to sleep," she added. It's made a 180 degree turn in her attitude and behavior. I don't know how to thank you enough."
The delivery of a doll, however, is just the beginning of Agustin's mission to help provide support services toA young boy (name withheld) salutes the camera while hanging on to his "Daddy Doll." Courtesy Photo. the families of those deployed.
"We want there to be as many layers of goodness in this, and as much support that can come out of this program as possible, because that's what's best for the families," Agustin said. "When someone reaches out for one of these dolls, it raises a flag that lets us know that this is a family that may need to be connected with all the other resources that are out there, so we make sure not to miss each opportunity presented to do just that."
"I don't remember the last time I got something so directly helpful to my family for absolutely free," said Whitus. "I make sure to tell my friends and family that when they are reviewing the donations that they give to each year, they should think about giving to Operation Give a Hug because it goes directly to the happiness of young children.
"We could all use a hug sometimes," she added. "But especially in need are our young ones during the holidays when they miss their daddies the most."
Operation Give a Hug is a Tacoma, Washington-based nonprofit organization, sponsored by The Kiwanis Club of Greater Tacoma Foundation. The dolls are distributed through family readiness groups, family liaison officers, family programs coordinators, casualty assistance officers, Fisher Houses and TAPS (Tragedy Assistance Program for Survivors).
Visit the Operation Give a Hug website to learn more about the program.
Original article, click here.