From Gifts for Grandparents to Gifts for a Boyfriend, We Have You Covered!
"A kiss on the hand may be quite continental," but a Huggee Miss You Doll is everyone's best friend! Coming up with Valentine's Day gift ideas for everyone on your list can be a frustrating task. Let's face it: chocolate and roses are over-gifted. Chocolate candies taste great, but they always have the potential to bring unwanted weight gain. Flowers are pretty, but they are extremely overpriced on Valentine's Day, and quickly wither away.
Our unique gift ideas will help you make everyone on your list feel special. Huggee Miss You dolls make the perfect gifts for grandparents, teachers, friends; they're even the perfect gift for a boyfriend or girlfriend! This year, give a gift your valentine will cherish all year long!
Huggee Miss You Dolls Are Unique Gift Ideas They Will Cherish Forever!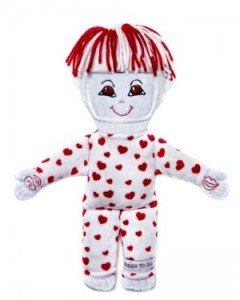 What makes Huggee Miss You dolls such unique gift ideas for Valentine's Day? The Huggee Miss You Doll comes in 20 different design options you can choose from, so your Valentine's Day gift for your boyfriend, girlfriend, friend or relative can be both personable and memorable. Perhaps the best part about Huggee Miss You dolls is the fact that they are recordable! Our recordable dolls allow you to add a custom, recorded voice message, so your loved one can hear your voice, no matter where in the world he or she may be! Have you thought of any Valentine's Day gift ideas that can do that without making you spend a fortune?
These affordable and unique gift ideas are the ideal "thinking of you" gift for anyone who is at a geographical distance from their valentine this year. Huggee Miss You dolls are wonderful gifts for service men and women who are on active duty and currently deployed far from home. Plus, the versatility of our Huggee Miss You dolls' design even allows you to add a picture! The picture feature keeps those who are far away close to each other in heart and mind, making these precious dolls great gifts for grandparents who can't always travel to see their grandchildren.
Huggs To Go is committed to bringing people closer through unique gift ideas, such as the Huggee Miss You Doll collection. If you are searching for thoughtful Valentine's Day gift ideas that your Valentine can enjoy all year long, then our Huggee Miss You dolls are just what you need! For more information and personalized ideas on gifts for grandparents, teachers, friends or that someone special, contact us today at 1-888-HUG-TOGO (484-8646).