By Karen Dandurant
kdandurant@seacoastonline.com
August 16, 2008 6:45 AM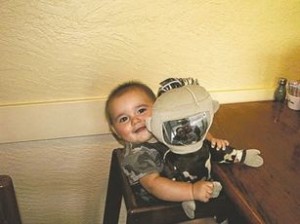 YORK, Maine — One little boy has lost a very special connection to his parents, both deployed to Iraq, and his Nana and Poppa are hoping someone will bring it back.
Police are distributing fliers, hoping the public can help the boy.
Ethan is 9 months old. He recently moved to America from Germany and is living with his grandparents, Susan and Thomas Dooley, in Middleton, N.H.
The special item is a "Mommy/Daddy doll," something to remind him that his parents are always with him, even if they have to be away.
"We took him in here, and the doll goes wherever we go," said Susan Dooley. "We went online and couldn't find (a replacement)."
The doll looks like a space person. It is 18 inches tall.
Dooley said the woman who developed the doll was battling breast cancer.
"It has a picture frame in it," Dooley said "The woman wanted something for her children to hug while she was in treatment. Where the face is, you slide (in) a picture of the person you want to remember. We put Mom and Dad in there."
The Dooleys picked up Ethan on July 21. On July 30, they thought they'd take him on a trip to York Wild Kingdom.
"Ethan's been to zoos in Germany and other places, and he likes them," Dooley said. The doll, of course went with us. I have a picture of us on the beach and we had the doll, so it was dropped somewhere between the beach and the Goldenrod. It's not a small thing, so you think someone would have noticed. He dropped his bottle and a person picked it up and gave it back."
After failing to find the doll, the Dooleys stopped an officer on a bicycle.
"When I described it to the officer, he took the time to listen; he understood," she said. "I thought he'd say, it's just a doll. I can't say enough about the police there. They were wonderful."
Christopher and Tasha Dooley, Ethan's parents, were in Germany for two years. Now, with the new deployment, they will be gone 12-18 months.
"My son deployed in April," Dooley said "Tasha flew to Ohio, her home town. We went there and picked up Ethan to bring him here. Now she's waiting to be shipped out. A year is a long time to be without a parent. I hope someone returns the doll."
In the flier, which Dooley made, she provides a quote that Ethan might say if he could talk.
"My Mommy and Daddy will not be back from Iraq for over a year, and my doll is all I have to remind me of them. If you find it, could you please return it to the York Police Department?"