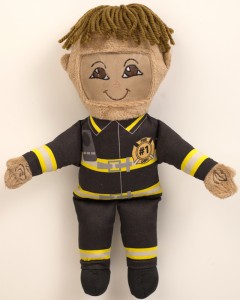 It's almost fire prevention week! This year's theme is "Working Smoke Detectors Save Lives," and we bet fire fighters all over the country are hoping that everyone sits up and takes notice. Not only does Fire Prevention Week remind us all to be safe, but it's a wonderful opportunity to celebrate the work your favorite firefighting hero does every single day.
At Huggs To Go, we honor our nation's fire fighters, and we know that these brave heroes deserve as much as love and support as we can give them. That's why we created the Firefighter HUGEE MISS YOU plush doll! These soft and cuddly photo dolls make the perfect gift for fire fighters to show them just how important they are to you.
Show the Fire Fighters in Your Life How Much You Care
Fire fighters have a very important (and sometimes very dangerous) job to do. Huggs To go wants to help support fire safety by celebrating the men and women who protect us, our homes and our loved ones. Our dolls are the perfect gift for:
Fire fighters of all ages
Children
Grandchildren
Parents
Siblings
Aunts and Uncles
Nieces and nephews
Friends, neighbors and loved ones!
Our photo dolls are also recordable: that means you can record different fire safety tips for your loved ones, to help protect them. And with Fire Prevention Week right around the corner, there's no better time than now to give one of our HUGGEE MISS YOU hero dolls to someone you love! They're machine washable and flame retardant – an important fire safety feature – with a 2" x 3" window for a picture right over the doll's face. You can cuddle them when you sleep or keep them in the fire house: the possibilities are endless!
Honor your heroes during Fire Prevention Week this October with a HUGGEE MISS YOU photo doll! Together, we can help spread the word about fire safety. We ship our photo dolls within 24 hours of receipt*. We also ship to APO, AE and FPO Boxes. Contact us today to order your plush doll!
*Does not include overnight shipping. All orders are shipped First Class or Priority Mail (unless ordered otherwise). We do not ship on weekends or holidays.